04 11. 13 14:21
contrabass solo
/
lp
/
al fisher
/
1974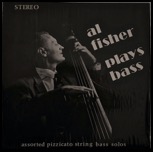 【
Yumegareki 029
】

"The Segovia of the string bass" – a phrase by Richard Davis is quoted on the back of the jacket. Technically speaking, it best symbolizes this album. His technique is incredible as he keeps on playing pizzicato all the way. An excerpt from the back of the jacket is posted below to share a glimpse of his seasoned skills in playing a contrabass just like a guitar. There would be no doubt that this album is cording of one of the most precious bass solos.
On the A-side, there is a list of Al's works but it is anything but exaggeration of his technique as his skills go beyond the technique. On the B-side, it has Chopin's The Revolutionary Étude. It is different from the expression of Chopin's fierce spiritual dignity. Rather, it is like a cheerful little animal jumping on the foliage.
I have listened to this record several times in a row. I cannot but feel a sensation of lunacy gradually exuded into the space time, just like the performance on the Japanese Noh stage. The notes plucked off from Al's hands jump over the arch of the melody, reverberating as a dawning sense of human insanity. The music is the extreme anomaly of an individual, a handprint of madness. Although the performer may not have been conscious or intended to do so, I can even hear things that the performer failed to catch.

久しぶりのレコード。1974年当時のビニールがまだ表面にはりついていて光できらきらしている。このレコード自体も貴重な録音であるだろうことはジャケットの雰囲気から想像に難くないし、実際かなりの希少盤らしい。この意味では、セバスチャンコレクションという一まとまりの存在を象徴するレコードかもしれない。それだけに、ついているビニールは当然はがしたくないので、ジャケットはこれも久しぶりにマクロレンズをだしてきて暗い部屋で光の反射とジャケットのソリをなんとか抑制しながらジャケット撮影、やっと針をおろした。裏ジャケットには「The world's all-time finest pizzicato bass soloist」とある。まず初めの感触は、レコード独特の音の奥の深さがあって身体の内部に直接響いてくる音。気持ちがよい。早くも感知されるのは、このアルバムが一つの探求の音楽であり、その結晶としての痕跡だろうということだ。この点でまず僕の耳が低く引き締まる。「ギターのようにベースを弾く」と何気なくいってみるとき…
もっと読む... Read more...