16 02. 14 00:15
contrabass solo
/
cd
/
fullfat
/
2008

http://www.dieterilg.de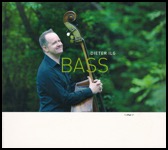 【
Yumegareki 033
】

I first got an impression that this performance accentuated the musical elements of "plane" created by the volume of bass through an amplifier. This is mainly because I have been listening Beethoven's Symphony No. 5 and String Quartet No. 15 recently. It demonstrates lasting sounds of Spirocore with well-trained fingers strumming pizzicato. It is a powerful solo performance coming through the bass amplifier, spreading an abundant quantity of sounds.
Just like the "lines" in "Ukiyoe," woodlock prints and paintings, by Hokusai Katsushika, music can have "lines" which move through the sounds as it progresses. This music, however, doesn't seem to have "lines," preventing me from feeling a sense of space or resonance at the end of the performance as well as the existence of unexplored darkness behind the sounds. Still, the performer seems to devote himself to the music by synching the movements of his emotions and hands. It left me an impression of a stable frame of music. The backdrop of the jacket has a fresh green forest through which a passage of sounds can be inferred. The entire album depicts an image of a passage of cheerful and fresh sounds with a touch of tranquility, devised humor, and some tear-inspiring moments. Its straight passage seems to emerge not as a "line" but as a "plane" of the music.
Before I knew it, I started thinking of the way how "lines" relativize the force of "mass" and "plane" and transform the force into "massiveness" that emerges as a flickering and floating substance. Hokusai's fine and weak "lines" are full of "massiveness." A "plane" covers "lines" with its mass, but lines feed their mass in a gap between planes. Although lines are curved, they are filled with massive blank. In the dark backdrop, a plane is formulated indistinctly. I indulged in a thought of what the sounds are all about.
Nonmechanic hollow in the body of contrabass brings about a suppressed "massiveness" when mixed with the overtone. By keeping the unique sound "massiveness" of contrabass in synch with "linear music," rather than aligning the "mass" with "plane music," the same overwhelming "massiveness" of the Beethoven's symphony could be reverberated in the background of the music.
最近はベートーベンの弦楽四重奏曲の第十五番をよく聴いていた。ブタペスト弦楽四重奏団のLPをたまたま安くみつけたのがきっかけで、年代をさしひいても録音ははっきりいってよくないと思うけれど、このベースアルバムコレクションはどこへやら、とりわけこれも傑作と言われるB面の第三楽章は、何やらひきつけられて何度も聴いている。一方では浮世絵。東京での大浮世絵展、名古屋での北斎展へ行き、今回は特に歌麿の線に驚愕し、北斎の線や構図の精緻さ大胆さと小さく描かれた人びとの表情が粋に過ぎて、この至芸にもまさに僕は本当に驚愕を覚えて手が震えるほどだった。ベートーベンと北斎は生きた時代が1800年前後でかぶって、どうしても比較したくなってしまう。北斎の構図や構想が現実と空想と観察の接点から着想された世界が…
もっと読む... Read more...