23 12. 13 11:49
contrabass solo
/
cd
/
aziza records
/
2001

http://www.azizamusic.com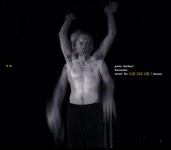 【
Yumegareki 031
】

This music seems to be created to remind us that we have a body that continuously transforms itself as we live. I can feel animalistic sensory perceptions of smelling and hearing deep inside the music. It is a structured modern multi-track recording, but its clear sounds and mode naturally cohere to the body, emitting an aroma of the ancient philosophy. In this modern world, this attempt can be a challenge to the listeners.
This album is not the imagination of the vast universe lying far from human beings. Rather, it invites me to the micro world inside or an imagination of the microcosmos. Sounds pass through the organ, called "ears," where the frictions are filtered. It also seems to filter sounds to materialize words out of the music.
In this manner, music can act like an animal, revealing itself in a blink of time, invoking an instinct from the listeners, and then gradually crystallizing a shadowy apparition of the performer. It is a form of the Western sounds or a contemplated mode of performance. But I can also hear refined carnal sounds, created to perceive a fugacious nature of bare behaviors. Because of these sounds, it strikes a similarity with the prominent philosophy of the East which emphasizes a concentration of Qi, the vital energy. The apparition itself is a culmination of Qi in a physical form.
This album compels me to consider the future of people and the earth with depth and width. It is a potential of soft but harsh words that can help us communicate with animals through Qi on a cell level, detaching ourselves from the political ones.

僕はいま、たとえば政治的な言葉とは対照的であるような動物的な言葉を聴くことができたのかもしれない。動物の言葉、動物レベルの人間の言葉の洗練があったように感じて、その残響に確かな共感を、ある動物的感覚において抱いたようだ。このアルバムを聴き終え、この静かな夜、なぜか書きながらヴァイオリニスト、カール・ズスケのバッハ無伴奏バイオリンを聴きたくなって静かな音で聴きだしているのだけれど、あの饒舌なシャコンヌでさえ密やかな動物の吐息のように聴こえてくる。
言葉の信憑性と言葉への責任が問われる政治。しかし言葉の誠実性が一般的にも急速に失われてほぼ完全に解体しかかって、言葉というものが政治から剥離し失墜して離散していく。政治が自分自身の基盤であるはずの言葉の力や意味をなし崩し的に失う、いや言葉を虚飾しながら利用するだけで、もとより政治の言葉の創造すらなされていないだけでなく…
もっと読む... Read more...